THE EXHIBIT OF THE TRUE HISTORY OF VIDEO GAMES
an international traveling museum exhibit chronicling the history of mankind's first interactive media
---
Thank you for visiting VIDEOTOPIA on the internet. This site is designed to give you a taste of the experience of visiting VIDEOTOPIA in reality.

---

VIDEOTOPIA is the only accurate exploration of the art, science, and history of video games in the world. The exhibit has become a resource for historians, educators, and television & print journalists from around the globe. VIDEOTOPIA has become the principle resource for the appreciation and understanding of this unique combination of art and science.

VIDEOTOPIA includes dozens of restored and new arcade video games - everything from the very first machine ever made, to the first machines to utilize microprocessors, software, 3-D graphics, etc., right on up to today's greatest simulator games, with all of the classics and favorites in between. VIDEOTOPIA details the evolution of home and arcade video games containing informational kiosks and displays that take visitors through the history and technology in a way that is fun, nostalgic, and educational.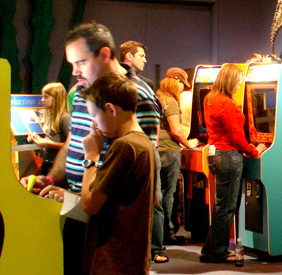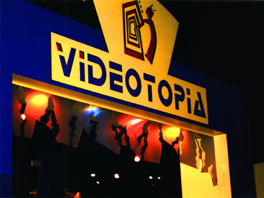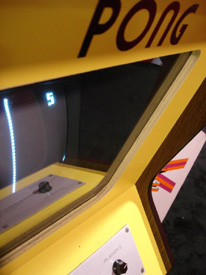 ---
VIDEOTOPIA'S PAST APPEARANCES
(the exhibit is no longer present at these locations)
Pittsburgh, PA - The Carnegie Science Center (premier/test run) - 6/15/96 - 9/15/96
Philadelphia, PA - The Franklin Institute Science Museum - 6/20/97 - 9/1/97
Washington, DC - The National Press Building - 1/31/98 - 4/30/98
Tampa, FL - Museum of Science and Industry - 6/6/98 - 9/7/98
Dallas, TX - The Science Place - 9/25/98 - 1/5/99
Baltimore, MD - Maryland Science Center - 5/29/99 - 9/6/99
Waterloo, IA - Grout Museum District: Bluedorn Science Imaginarium - 2/1/00 - 9/1/00
El Paso, TX - Insights El Paso Science Museum - 12/20/00 - 7/30/01
San Antonio, TX - Institute of Texan Cultures - 8/12/03 - 11/02/03
Singapore - Singapore Science Centre - 10/21/04 - 2/14/05
Orlando, FL - Orlando Science Center - 1/12/06 - 2/09/06 & 1/07 - 3/07
Rochester, NY - Strong National Museum Of Play - 5/30/09 - 1/5/10
Tallahassee, FL - The Mary Brogan Museum of Art and Science - 6/10 - 1/11



Click here to experience VIDEOTOPIA
---
For more information about booking VIDEOTOPIA,
please visit the booking information page.
---
VIDEOTOPIA and Electronics Conservancy are registered trademarks of The Electronics Conservancy, Inc. All rights reserved. All photos (c)1997-2007 Electronics Conservancy. All videogames, characters, brand names, and trademarks are the properties of their respective owners.